Hamilton Ontario food Delivery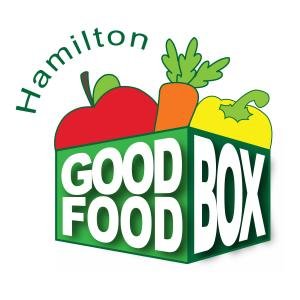 The Hamilton Good Food Box Network delivers directly to various locations all over Hamilton. We understand that with busy schedules convenience is key so we've set up hubs across the city. Pick ups take place the third and fourth Wednesdays of every month. Order at least one week before your pick-up day to avoid disappointment! Whenever you are ready to order please contact and prepay for your box at the site where you want to pick it up, using our Google Map and site info (link below).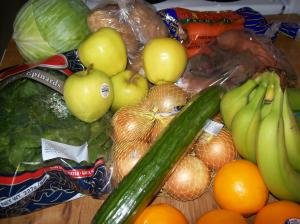 Every month our project now serves over 500 individuals and families!
Find a Pick-up Site near you!
View our Google Map with our with contact information, delivery days and pick-up times TO CHECK OUT OUR THREE SISTERS SALAD RECIPE from our appearance on Cable 14's "Hamilton Life"!
CLICK TO CHECK OUT OUR CARROT AND RUTABAGS WITH HONEY AND LEMON GLAZE from the December 19th show
CLICK to watch the cooking demonstration on Cable 14's Hamilton Life (starting at 6:53)
Wow, I just came onto the Good Food Box program this January, and from my experience these past two months; I'm very impressed with the quality of the food and the value for price point, I especially enjoy trying the new items introduced each month.
-thnx!
Good Food Boxes and Local Food
Hamilton Eat Local has a history of working hard to promote the purchase and consumption of locally grown food. We recognize the multiple ways in which a more localized food system creates environmental benefits: reduced food miles and greenhouse gas emissions, support for local agriculture, and fresher, better tasting food for those who choose to "buy local". Research proves that when people have diets focused on fresh, healthy, local food there are health benefits, too. We have also recognized the importance of ensuring that a local food system is one that makes this food available to all. Local food sometimes comes with a higher price tag, which is impossible to avoid within our current food system. This is where the Good Food Box can make a difference.
Read about volunteering opportunities below.
What's in a box?
Boxes contain a large variety of fruits and vegetables that changes each month. Selections depend on what's in season and reasonably priced, making the produce as fresh and as affordable as possible. Note: Good Food Boxes cannot be customized.
potatoes (we almost always have)
1-2 root vegetables
1-2 other vegetables
1-2 salad greens
bananas, plus 3-4 other fruit
1 less common item with tips on how to use it

Bag of carrots (2lb)

Potatoes

Sweet Potatoes

Washed Spinach

Cooking Onions

Organic Beets from ManoRun Farm

English cucumber

Golden Delicious Apples

Bananas

Oranges
Vita Coco Coconut Water, Pure, 11.1 Ounce (Pack of 12)


Grocery (Vita Coco)




Pure vitamin and mineral rich coconut water
Great source of potassium, fat and cholesterol free
Comes in eco- and socially-responsible Tetra Pak packaging with a convenient resealable cap
Kosher, gluten-free, and vegan-approved
Hydrate naturally
Haribo Gummi Candy Gold-Bears, 5-Pound Bag


Grocery (Haribo)




One 5-pound bag containing approximately 985 pieces
Naturally flavored with balanced sweetness
Mouth watering, colorful candy
Flavors are pineapple (white), strawberry (green), lemon (yellow), orange (orange), and raspberry (red)
Amazing Grass Green SuperFood Original, 30 Servings, 8.5 Ounces


Grocery (Amazing Grass)




Green SuperFood is packed full of nature s more nourishing, cleansing and potent superfoods, alkalizing greens, antioxidant-rich fruits and support herbs
Certified Organic by CCOF, Vegan, Gluten Free, Non GMO, Kosher, Raw
Original, natural and organic flavor provides a powerful dose of whole food nutrition in each serving
Mix one serving with 8 or more ounces of water, juice, or mixed into your favorite smoothie!
30 servings, 8.5 ounces

Jolly Rancher Hard Candy Assortment, 5-Pound Bag


Grocery (Jolly Rancher)




Perfect for party favors, fun décor, and everyday snacking
Delicious on their own or incorporated into desserts
5-pound bag ensures there is plenty to go around
Flavors include watermelon, apple, cherry, grape, and blue raspberry
Includes 1 bag of Jolly Rancher Original Hard Candy (5-pound bag)

Japanese Kit Kat - Maccha Green Tea Bag 4.91 oz by Nestle


Grocery (Nestle)




There are 12 of mini size kitkats ( 2 finger ) in the bag.
1 mini size kitkat is about 0.4 oz.
Uji Gyokuro tea leaves into
Popular Q&A
Is there a store in Hamilton, Ontario that sells Amy's Kitchen food? | Yahoo Answers
Hi Rebekah!
Amy's products are sold at all Loblaw's (closest ones to you are in Mississauga) and Natural/Health Food stores throughout Canada.
Products that are available in Canada:
Try Vital Planet Health Shop on 4 Newton Ave., Hamilton, ON. If they don't have them, they may have info on what other stores may carry them. Or, you can suggest they carry some Amy's products.
Good Luck on your search

Amy's products are sold at all Loblaw's (closest ones to you are in Mississauga) and Natural/Health Food stores throughout Canada.
Products that are available in Canada:
Try Vital Planet Health Shop on 4 Newton Ave., Hamilton, ON. If they don't have them, they may have info on what other stores may carry them. Or, you can suggest they carry some Amy's products.
Good Luck on your search
Corner express, Food take away delivery in hamilton
Nearest Match: Korner Express - 37 Burnbank Road, Hamilton, Lanarkshire, ML3 9AQ T: 01698283967